Preschool
3-5 years
Stepping Stones' preschool program prepares children socially and academically, as well as, supports and encourages the development of independence, responsibility, and confidence, all of which are essential for the child's ongoing success in kindergarten. Our childcare educational program focuses on each child's social, emotional, intellectual, and physical development by offering concrete, hands-on activities for the child to explore.
The preschool curriculum at Stepping Stones daycare is designed to actively engage each child in developmentally age appropriate activities exploring the content areas of literacy, mathematics, science, social studies, the arts and technology. Our skilled childcare teachers prepare curriculum that is exciting and challenging, as well as supportive of each child's own learning style. Our preschool room arrangement creates the optimum learning environment. It allows children easy access to educational toys, materials and books, enabling them to initiate and expand their activities. The classroom is organized with areas for block play, manipulative toys, art creativity, dramatic play, and reading in addition to larger spaces for group activities. To enhance learning experiences in our preschool we offer class field trips at various times throughout the year.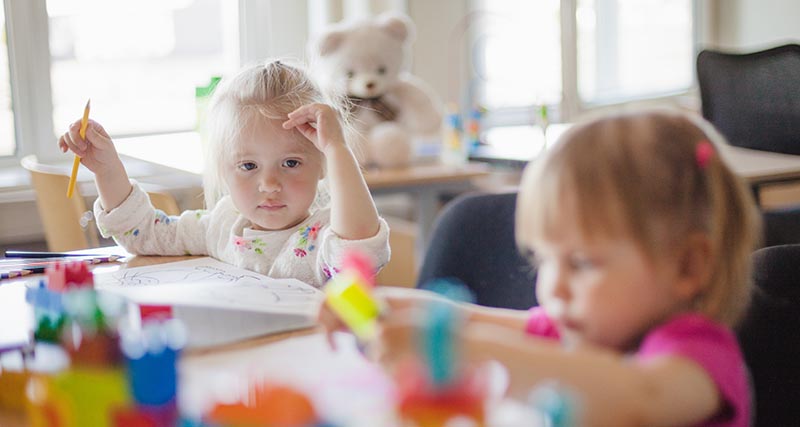 Field Trips
Stepping Stones childcare frequently supplements the in-class curriculum with off premise field trips. Parents are required to give written permission for their child to attend each field trip. Notification of a field trip will be sent home in advance of the trip, with all pertinent trip information including, destination, date, time, reason for trip, cost, and mode of transportation. Accompanying the notification paper, teachers will include a permission slip to be filled out, signed, and returned to the daycare teacher prior to the date of the trip. The field trip permission slip must be filled out completely and accurately, and all trip costs must be paid in advance in order for your child to attend. If your child is not scheduled to attend on the day of a field trip and you wish for your child to participate in the trip, please discuss this with your child's preschool teacher at least 1 week prior to the date of the trip. Your child will be permitted to attend if required ratios can be maintained with his/her addition to the class. An additional day fee of, as well as the cost of the trip and signed permission slip will be due prior to the date of the trip.
Facility